5 - JANUA line
The only ones in brass die-casting, a challenge at the time.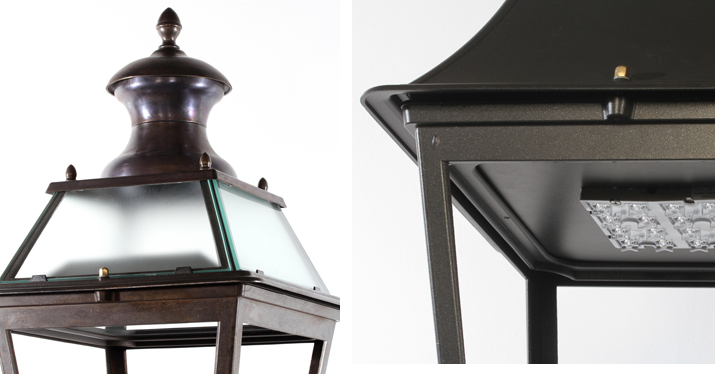 TAGLIAFICO LIGHTING
Refreshes and revolutionizes its production by turning to the public lighting market, presenting a wide range of renewed products and, above all, designed to contain light pollution and energy saving.


They allow for fast and economical maintenance, with a total recyclability of the product.

Ideal solution for maintaining style appliances in historic environments, meeting the requirements of the most stringent regulations.


FRAME AND ALUMINUM FASTING LANTERS
Made in die-cast aluminum and flat glass aluminum, with top area enclosed by an aluminum die-casting hat with a tilting opening for quick access to the equipment for quick maintenance and replacement of the lamp.



FINISHING OF BRUSHES
Molten castings after SA 2½ metal blasting are subjected to deburring, grinding, finishing, drilling and tapping processes to pre-paint them.


Brass treatment with brushing brass, on surface burnishing with cold jet immersion.
Aluminum treatment with surface passivation with bath in ALODINE 1200, compliant with MIL C-5541 specifications.

The main features of the treatment are improved corrosion resistance and optimization of adhesion of paints on passive parts.


Painted with electrostatic and hardened epoxy-polyester powder powders 180 ° in black graphitized colors or with antique copper colored imprinted anti-scratch finish.
Average thickness of 60 microns.


Resistance to Quadrature Test to ISO 2409 -

Resistance to shock resistance to UNI 8901 standards